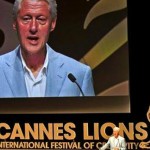 Pres. Bill Clinton:
"We need to figure out what we're going to do to improve the image and the self image of the Greeks, they're going to do whatever it takes to stay in the Eurozone."
"Someone needs to set aside aid to provide entrepreneurship, education– anything that will empower people– and give then a sense of momentum again."
The former US President called on ad agencies to help inspire people to social change around the world and build shared prosperity. He made the remarks in a keynote speech at this year's Cannes Festival of Creativity in late June.
Full article and video here:
President Clinton praises Greece at Cannes ad festival
---
PRESIDENT CLINTON is turning 66 on 19Aug2012. Send him a Happy Birthday Wish.
---