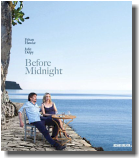 The 86th Academy Awards – 02 March, 2014.
The Greek minds are live and well in Hollywood, as many nominations have been earned for the 86th Academy Awards Oscars.
Before Midnight – Academy Award nomination for Richard Linklater. The movie was filmed in Peloponnese, Greece, has received the nomination for Best Adapted Screenplay. Beautiful setting, cinematography and music. [See Movie Trailer]
Filming Locations:
Kardamyli, Messinia, Greece
Costa Navarino Luxury Resort, Messinia, Greece (hotel room scene)
Kalamata International Airport – Kalamata, Messinia, Greece (Jesse and Hank at the airport in the opening scene)
Pylos, Greece (street scenes)
Patrick Leigh Fermor's house – Kardamyli, Messinia, Greece (house where Jesse and Céline spend their Greek holiday)
Nebraska – has received six nominations, including Best Picture, Best Director, Best Original Screenplay, Best Actor and Best Supporting Actress. Alexander Payne, the Greek American filmmmaker has been recognized for his work, as well Phedon Papamichael for Best Cinematography on the film.
Philomena – the Greek French composer Alexandre Desplat received a nomination for Best Original Score.
Avant Que De Tout Perdre (Just Before Losing Everything) – Alexandre Gavras, son of filmmaker Costa Gavras, was nominated in the Live Action Short Film Category, alongside Xavier Legrand.
Congratulations!