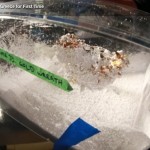 An amazing video showing how priceless artifacts were transported from Greece to USA for the exhibit at the National Geographic Museum in Washington DC. The exhibit will begin on June 1st 2016.
Museum of National Geographic – May 26, 2016 – Get an inside look at the largest collection of ancient Greek treasures ever to visit North America, The Greeks: From Agamemnon to Alexander. Nat Geo Archaeology Fellow Fredrik Hiebert tells the story of these legendary artifacts of gold, marble and bronze from thousands of years of royalty, heroes and warriors.

Watch the video
---
Help us continue our work for Hellenism – Participate in our 2016 Fundraising Drive.
---