Home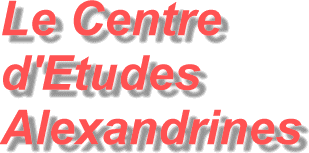 The Centre d'Etudes Alexandrines (The Centre for Alexandrian Studies) was established in 1990 by Dr Jean-Yves Empereur as a centre for research into the diverse aspects of Alexandrian history.
For the first two years of its existence visiting scholars based their studies on the collections of the Graeco-Roman Museum and began work on the topography of the ancient and medieval town.
Since 1992 the Centre has been requested by the Egyptian antiquities service to undertake a number of salvage excavations both within the centre of the city and waters of the bay.
Institutional funding is provided by the Centre National de la Recherche Scientifique, the French Archaeological Schools of Athens and Rome, the French Ministre des Affaires Etrangeres and the Institut Francais d'Archeologie Orientale at Cairo, which also donates important technical support. The Centre has received considerable financial support for the Pharos excavations from the Elf Foundation, Electricite de France, Gaz de France and the multi-media company Gedeon.


Copyright © Hellenic Electronic Center and Le Centre d'Etudes Alexandrines (authors) 1998. All rights reserved.