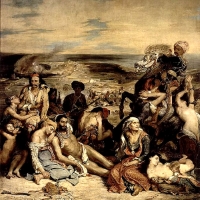 Remembering - May 19th
A day to commemorate the 350,000 who suffered and died in the hands of the brutal Ottoman Empire
The Quotes page, is a collection of quotes from historical documents and photos aiming to allow the reader to better understand how cruel and systematic were the actions of the Turkish government to exterminate the Hellenes (and Armenians and Assyrians) all the Christians in general, and also how and why certain governments acted to SUPPORT those crimes.
Email your questions to:
HEC@greece.org
---
DISCLAIMER
The Genocide Petition and the Genocide Recognition project is a grass-roots effort organized by the Hellenic Electronic Center and the Genocide Action Committee. HEC and the Action Committee have no affiliation with any registered political organizations inside or outside of Greece. The effort is not politically-motivated and neither is it addressed against any political party and/or member of the Greek government. The effort aims to preserve Greek history by voicing the concerns of the Diaspora against any distortions, amendments and/or denial of history, primarily motivated by the influence of foreign agents and governments.
---
Back to Hellenic Electronic Center
---
Copyright © 2001 HEC All Rights Reserved (server HEC1)