---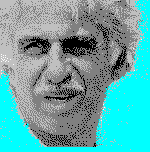 The great man who is no longer among us
Instead of coming to Kyrenia "Kyrenia II" is entering Paphos: A pain for the Kyrenians. "Kyrenia II" brings with it all the desire for the land of Kyrenia. The sea and toil of its people. Kyrenia's bowels have guarded thousands of years of Greek history. And the Castle and the mountain of Pendadactylos have been imprinted on a wooden vessel. Dream and expectation have been concentrated on a furrow of water. Old people with blurred eyes are gazing far away. Children are standing on tiptoe to watch the scene. And "Kyrenia II" is coming in. It is escorted by fishing boats like the ones that found the older "Kyrenia I". And some foreign cosmopolitan yachts are passing by. It is the same as on the seafront. The spectacle ... and the fireworks are for others! And for others Kyrenia is rending mind and soul.
A small wooden ship.
Loaded with all the ages of our history.
With the Achaeans that landed inquisitively on the coast. The legend that carried Homeric heroes to the shore. The temples, the columns, the amphorae. And the frightened people. The first shipwrecked Christians came ashore and informed it that somewhere near a Nazarene was preaching that there wouldn't be "Jews and Greeks" any more, "slaves and freemen" "males and females". There wouldn't be exploitation of man by man. The people were overjoyed and they laid their hopes in "caverns by the sea".
They were chased by Roman lances.
And they ran in panic to hide.
Guardsmen of the coasts made their presence on the shores again. Frightened, they sought refuge once more on the mountains when pirates spoilt their tranquility. Hiding high up at Karmia they gazed at the sea. Kings, queens and princes came from France and built their castles on the mountain. Again, the people soaked the earth with their sweat. Again and again.
The Turks came and said,
"It's ours!"
And the British came and said, "Ours!"
The Turks came again.
And the people of Kyrenia are standing before the ship of Kyrenia. A call for the time that has gone.
A cry to the time that will come.
"Kyrenia is ours. This land is ours."
The Kyrenians are welcoming "Kyrenia II".
They are singing for it; they are spoiling it like a little child. "Kyrenia II's" cry "on the water". What merchandise it has brought with it! What a host of things it has brought with it! Karpasia's "Achaean Coast". The first Christian castaways. The fruits of Hellas. The look of desperation that penetrated the sky that July of '74 searching to the signs that were not there. It has brought with it all the sighs of the Kyrenian to his Kyrenia. And as "Kyrenia II" proudly entered the harbour it looked as though it was searching amongst the crowd to the one that brought it piece by piece back to life. The one that interrupted its twenty-three centuries' old sleep. It looked for the great man that was not among us. The man whose life had become one with the ship of Kyrenia: Andreas Kariolou. Kyrenia's great son: Arris. 3/10/86 G.SERTIS
---

Go to the previous page
---
Last Updated: Saturday, June 01, 1996 12:08:21 AM
---