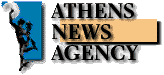 World Hellenes Union Supports United Cyprus

NICOSIA, 31/07/2002 (CNA/ANA)

President of the World Inter-parliamentary Hellenes Union Demetris Yiannaros has assured that the Union's members will work hard an try to promote their position for a united Cyprus.
The Union's presidium members, currently visiting Cyprus, at the invitation
of the House of Representatives, were received on Tuesday by Foreign
Minister Ioannis Kasoulides and discussed with him developments in the
UN-led direct talks for Cyprus, held between Cyprus President Glafcos
Clerides and Turkish Cypriot leader Rauf Denktash since mid January this
year, and Cyprus' accession course towards the European Union.
Yiannaros told the press afterwards that members of the Union will request
the governments of the United States, Australia, Canada and Russia to exert
pressure for a solution to the Cyprus problem providing for a united
island. He expressed the Union's support to Cyprus' accession to the EU, stressing
that this was the only real solution for the Cyprus problem.
On Wednesday the Union's presidium members will be received by Cyprus President Glafcos Clerides and House President Demetris Christofias.