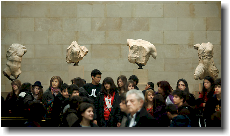 The article in the comment below was published in New York Times.
The author is missing the whole point of the looting and vandalism and pretends the British have the marbles in some legitimate way!
His statement: "…the British still make the better case" is based on foolish arguments like the vast majority of people including the British are rooting for the "Greeks playing the underdog role of the old Red Sox vs NY Yankees"
Elgin did not "spirited them [sculptures] from the Acropolis in Athens", but he literally hacked them off the solid marble blocks and he vandalized the Temple.
There are countless such statements and assumptions not only for the Parthenon Marbles but in the other references to other major pieces of antiquity that have been looted, including the statement that Zahi Hawass, Egypt's chief archaeologist, made recent "fuss" about the Rosetta Stone.
Of course one who writes that "today's Acropolis is itself a kind of fiction" he has not experienced being there. Just by walking up the steps pass the Propylaea, one will feel the admiration. Being there. At the Acropolis.
Should this kind of journalism published by NYT?
See full article and comments…