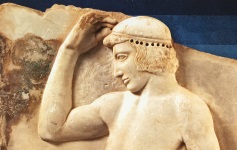 Agamemnon to Alexander the Great:
A stunning exhibition celebrating 5,000 years of Greek culture.
More Than 500 Greek Artifacts Make Final Stop on 4-city Tour.
See also:
---
Take an extraordinary journey through 5,000 years of Greek culture in this world-class exhibit celebrating kings, scholars, poets, and philosophers. An incredible collection of artifacts previously never before seen outside of Greece makes this 2016's must-see exhibition!
Click on Brochure to get Promo Code and save $2.00 off admission to the museum.
---
By