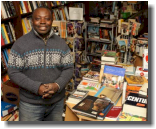 The Greek Bookstore belongs to a Nigerian-Greek who obviously loves Greek literature. The Seaburn Bookstore is in 22-18 Broadway street in Astoria, NY. It is unique in the American city of hundreds of thousands of Greek Americans who sells Greek books titles of ancient Greek literature and history, modern history and literature, essays and biographies, cookery books, studies and books on art.
Watch this 4 minute video. Η εκπομπή του Σαμ!
"The only mainstream, independent bookstore in Queens has survived the recession and competition from discount websites like Amazon. But another rent increase was the last straw for Seaburn Bookstore…"
Read the full article at DAILY NEWS
---
Leave a Reply
You must be logged in to post a comment.