---
---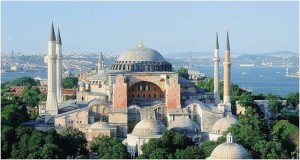 Turkey: Statement on Hagia Sophia
FOR IMMEDIATE RELEASE
May 21, 2014 | USCIRF
The U.S. Commission on International Religious Freedom (USCIRF) finds misguided a recent bill introduced in Turkey's parliament that would change the status of the historic Hagia Sophia in Istanbul from a museum to a mosque. USCIRF urges Prime Minister Erdoğan publicly to reject the bill and affirm that Hagia Sophia's current status will be maintained.
Built in the sixth century by the Byzantine emperor Justinian, Hagia Sophia served for nearly 1000 years as the most visible symbol of the Christian faith within the Byzantine Empire. Following the 1453 Muslim conquest of Constantinople, Istanbul's former name, this magnificent structure was converted to a mosque by Sultan Mehmed II. For nearly 500 years it was a similarly potent symbol of the Muslim faith within the Ottoman Empire before becoming a museum in 1935.
Whether driven by political considerations tied to Turkey's forthcoming elections, or for any other reason, opening Hagia Sophia as a mosque would clearly be a divisive and provocative move. It would send the message that the current government sees the sensitivities of Turkey's religious minority communities, particularly its ancient Christian community, as being of little or no consequence.
Led by the AK Party and Prime Minister Erdoğan, Turkey has taken some positive steps over the last twelve years to reverse the negative consequences of decades of strict Kemalist secularism. During these decades, the government expropriated the property, including churches, of religious minority communities, and closed centers of higher education like Halki Seminary. These problematic chapters of Turkey's history remain fresh in people's minds and continue to shape minority sensitivities.
Given Hagia Sophia's longstanding connection to Christians and Muslims alike, as well as the rich spiritual meaning it embodies and the powerful emotions it evokes for members of both faiths globally, we believe the pending bill forces Turkey and its people into a zero-sum situation that unnecessarily favors one community over the other. Such an action could deepen the wedge between the government and its delicate relations with its Christian minority, by exacerbating the memories of the terrible religious freedom violations and historical tragedies that occurred in the last century. The problematic implications of such an action are compounded by the deteriorating landscape for democracy and human rights. The past year has seen the imposition of serious new restrictions on internet freedom, privacy, and media freedom, with troubling implications for religious freedom.
Further, changing the Hagia Sophia's status would risk undermining Turkey's efforts to: enhance its standing in the international community; further its aim of becoming a bridge-building nation between west and east; and emerge as a model on how a Muslim-majority nation can be a religiously plural and democratic country.
To interview a USCIRF Commissioner, please contact USCIRF at 202-786-0613 or media@uscirf.gov.
Source: USCIRF, an independent, bipartisan federal advisory body which monitors the universal right to religious freedom abroad.
---
Leave a Reply
You must be logged in to post a comment.