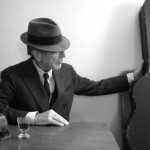 21 September 1934 – 7 November 2016. A Tribute to Leonard Cohen.
Cohen loved Greece. He spend almost a decade in Hydra writing poems and novels. "Cohen continued to write poetry and fiction throughout much of the 1960s and preferred to live in quasi-reclusive circumstances after he bought a house on Hydra, a Greek island in the Saronic Gulf." [Wikipedia]
Leonard Cohen revisits his house in Hydra, where he wrote Bird on a Wire ( "and there's the wire"!)and many other songs. This is the house he shared with Marianne, his muse, and the Marianne of SO LONG MARIANNE.
Leonard on Marianne – Beautiful song and interview
…I saw them walking arm in arm down the agora in Hydra, in fact I was very lonely and I said to myself how lucky those people are that they have one another and they were a very handsome couple. I had no idea that I will spend the next decade… see the video


So Long Marianne


So Long Marianne
Oslo Spektrum: May 1, 1993
Marianne Ihlen, immortalized in "So Long, Marianne" and the woman in Leonard Cohen's life through the 1960s, died July 28, 2016 after being diagnosed with leukemia less than a week earlier.
Leonard Cohen's Divergent & Devastating Version Of So Long, Marianne – Oslo 1993
[this video is unavailable]

Hallelujah, one of the best songs.

Leave a Reply
You must be logged in to post a comment.