The 20th March 2021 marks the 27th anniversary of the murder in Nicosia of Theophilos Georgiades, the desk officer responsible for Turkish affairs at the Cypriot Public Information Office who was killed on March 20, 1994.
Theofilos Georgiadis was best known as a human rights activist, a dynamic figure who fought for the rights of Cypriots and Kurds, as well as other oppressed minorities in Turkey, promoting the human rights violations of Turkey.  In the 1990's, Theofilos managed to create the strongest legitimizing platform in Europe for the just struggle of the Kurds.  He was a vigorous supporter of the Kurdish liberation movement and the chairman of the Greek-Cypriot "Kurdistan Solidarity Committee".
One of his most publicized achievements was at the International Conference in Brussels in March 1994, where Theofilos Georgiadis, through a multifaceted enlightenment campaign, convincingly and scientifically substantiated Turkey's human rights abuses and achieved the unanimous condemnation of Turkey for the invasion and occupation of Cyprus, for terrorism and violence and fascist policies against minorities.  The international outcry, as expected, provoked Ankara's discomfort and reaction.
Brief Biography
Theofilos Georgiadis was born on September 9, 1957,and studied Political Science in Greece in the late 70's, followed by studies in France and Germany.  Upon his return to Cyprus, he was initially hired by the Police and then took over the position of Officer in the Turkish Affairs Department of the Press and Information Office of the Republic of Cyprus. An in-depth expert on Turkish issues, he had given hundreds of interviews and lectures on Turkey's expansionist policy, lobbying in Europe for the promotion of human rights and democracy in Turkey.
His murder
It was Sunday, March 20 at 10:00 pm. Theofilos Georgiadis was returning from Larnaca airport to his home in Nicosia. After parking his car, he moved to the entrance of his house. Five bullets hit him, resulting in his death. The investigation that followed found clear links between the assassin and the Turkish secret services, but the investigation was never officially concluded.   Even so, it is accepted that the assassination was the work of the Turkish secret services, as stated repeatedly by officials of the Cypriot Government.  As for example, stated by the Cypriot Minister of Defense Mr. Savvas Angelidis in 2019 at the Commemorative speech of the memorial of Theofilos Georgiadis  "So, on March 20, 1994, at 10 pm, at Thucydides Street in Aglantzia, paid agents of the Ankara secret services shot Theofilos with 5 bullets, outside his house."
The assassination of Theofilos Georgiadis was one of the few political assassinations in Cyprus.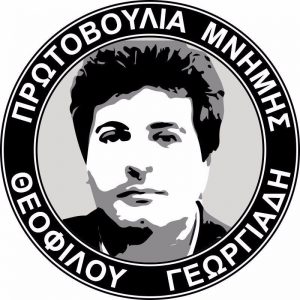 Sources:
https://www.philenews.com/f-me-apopsi/arthra-apo-f/article/675236/i-dolofonia-toy-theofiloy-gorgadi
https://www.pio.gov.cy/%CE%B1%CE%BD%CE%B1%CE%BA%CE%BF%CE%B9%CE%BD%CF%89%CE%B8%CE%AD%CE%BD%CF%84%CE%B1-%CE%AC%CF%81%CE%B8%CF%81%CE%BF.html?id=6568#flat
https://www.reporter.com.cy/editors-choice/article/318036/
https://www.tothemaonline.com/Category/michani-tou-chronou?p=40