---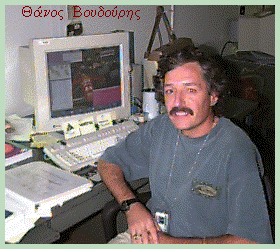 Thanos Voudouris
---

Biographical - Thanos is a Graduate of University of Maryland (UMD) and a Computer Scientist with Computer Sciences Corporation, assigned to Microelectronics Systems Branch, which is part of the Applied Engineering and Technology Diractorate at NASA's Goddard Space Flight Center (GSFC). Some of the school work done at the Graduate School of Management & Technology at UMD.
He is working in the IR&D group that provides the actual hardware and software for spacecraft / earth_station communications used by different space missions. Using C, C++, and microcode languages in VxWorks Operating System, develops and tests microchips for the next generation data communications system to perform at 150Mbps. This system will be used in the EOS. EOS project (Earth Observing System) will be a system of several satellites observing the earth for scientific purposes. The first of such satellites is scheduled for launch in late 1998, and the others will follow beyond year 2006.
Prior to this assignment, Thanos worked for several years as a Lead Analyst in designing and implementation of Real-Time simulation systems. Specifically in flight and tactical simulators used by US Navy aircraft-carrier based S-3 airplanes, P-3 Orion, and as well as underwater acoustic sonar for Anti-Submarine Warfare systems, and Trident class nuclear submarines.
His number one hobby is taking off in the summertime from his home in Washington D.C. suburbs, and going to his birthplace, Hellas. There enjoys the Athenian lifestyle and the sunny beautifull beaches of the Aegean. Swimming and spear-gun fishing must be on top of the list. Thanos also enjoys playing soccer, racquetball, biking, rollerblading and last but not least the internet and his involvement with the HELLAS page and HEC.
Ohhh I forgot my artistic tallent :-) in Charcoal drawing: Vase, and Guitar.

Current Assignment Assigned to NASA's Earth Observing System (EOS) Project to design and develop software for the operation of the EOS-AM High-Rate telemetry communications and processing equipment. Currently working on:

Visit the EOS's Mission to Planet Earth Home Page and
for more detail info, visit the Publications Page for important information.


Contact Iformation:


NASA / Goddard Space Flight Center (GSFC)
Code 521, bldg 23
Greenbelt, Maryland 20771

Office: Bldg 23, room E449, tel. (301) 286-4557
E-mail: thanos@vlsi.gsfc.nasa.gov

Computer Sciences Corporation
Systems Science Division
7700 Hubble Drive
Lanham-Seabrook, Maryland 20706

---