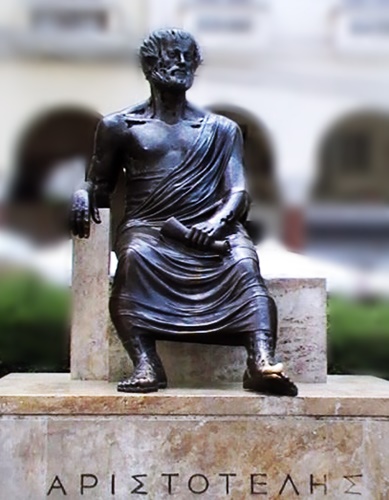 "Man is by nature a social animal; an individual who is unsocial naturally and not accidentally is either beneath our notice or more than human. Society is something that precedes the individual. Anyone who either cannot lead the common life or is so self-sufficient as not to need to, and therefore does not partake of society, is either a beast or a god."
― Politics
Aristotle was born in Stageira in Halkidiki. He moved to Athens in 367 BCE on studies of philosophy and rhetoric. There is a believing that he enrolled at Plato's Academy. About twenty years later left Athens because of his studies of botany and zoology. At the same time he became a tutor of one of the greatest emperors ever – Alexander the Great. After this period he returned to Athens to establish his own school: the Lyceum. His main work well-known as the corpus Aristotelicum cover a variety of subjects including logic, physics, optics, metaphysics, ethics, rhetoric, politics, poetry, botany, and zoology.
Aristotle wasn't very famous during the Hellenistic period because the logic of Stoa was very trendy. After this period authors of Peripatetic School back to life his philosophical work.