UNESCO declared 2016 as the anniversary year of Aristotle
---
The year of 2016 was declared as the year of Aristotle by UNESCO. The focus of the main initiative was submitted by a number of professors who were from the Universities of Greece. This initiative was also supported by Martin Schultz who is the president of the European Parliament and by the state institutions of the Hellenic Republic.
The first in a series which was the celebrating of the anniversary of the birth of Aristotle took place in Thessaloniki, as well as Aristotle's native place which was the Ancient Steagira (Στάγειρα) in Halkidiki, under the name "World Congress Aristotle 2400 years". The World Congress Aristotle 2400 years was held from May 23rd to May 28th of 2016, by the initiative of the "Interdisciplinary Centre for Aristotle Studies" of the Aristotle University of Thessaloniki.
The World Congress Aristotle 2400 years invited the most prominent scholars in the field of Aristotelian philosophy in the world which also included Hillary Whitehall Putnam. The speakers of this Congress presented outstanding scholarship and lectures on the themes of almost all aspect of Aristotle's philosophy. This included his political philosophy and his accounting upon Bio-ethics. The cultural aspect of the Congress was marked with the exclusive news about the discovery of Aristotle's grave in the Halkidiki peninsula. Greetings at the opening of the Congress was given by the officials of the European and Hellenic Republic Institution.
The second in a series regarding the scholarship of Aristotelian philosophy was held under the name "Philosophy of Aristotle" and was held in Athens. This series was organized by the "International Association of Greek Philosophy" of the University of Athens and the "Greek Philosophical Society" and was held from July 9th to July 15th 2016.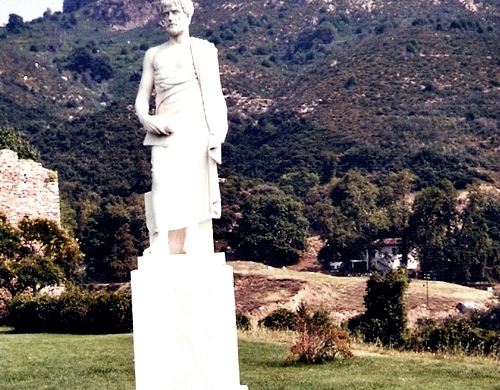 Opening ceremonies of the World Congress of the "Philosophy of Aristotle" was held at the The Odeon of Herodes Atticus and the lectures were presented at the major cultural places and institutions throughout Athens. This event was supported by numerous philosophical institutions around the world, as well as by the official institutions of the Hellenic republic. The World Congress of the "Philosophy of Aristotle"expressed the themes of the entire Aristotelian philosophy as it relates to the cultural and artistic themes.
This very important event was extended at the closing ceremonies of the celebration for the Aristotle anniversary year at UNESCO premises in Paris, France on November 1st, 2016.