NAVAL MUSEUM OF THERA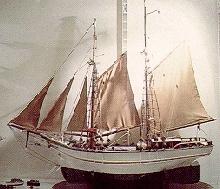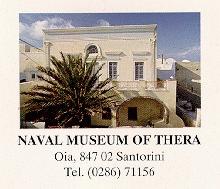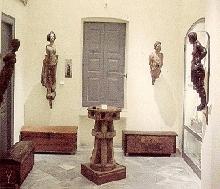 An island, a history inside a museum in Oia
---
In Oia, the picturesque traditional town on the northwest side of Santorini, an old mansion has been restored and converted into a museum that houses the Maritime History of Thera.

Rare Figureheads, Seamens Chests, old Mritime Equipment, Carrening Drawings and Patterns, Models of old and new Theran Ships, Acquarelles featuring old Sailing Vessels as well as rare Photographs and a Library, all register year by year the contribution of the Therans to the glorious History of the Hellenic Navy.

A visit to the Naval Museum of Thera in Oia, is paying homage to the Maritime Tradition of the Aegean.
---
NAVAL MUSEUM OF THERA
Oia, 847 02 Santorini
tel. (0286) 71156
---
---
Last update: Jan. 20, 1996