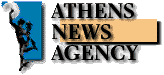 U.S. Congress resolution supports Cyprus' EU accession
WASHINGTON, 26/07/2002 (ANA - T. Ellis)
An important development, which to a degree operates supportively of Cyprus' EU accession course, is signaled by the unanimous adoption by the European affairs subcommittee of the U.S. House of Representatives International Relations Committee of a resolution with which the Congress supports Cyprus' EU accession without a settlement of the political problem constituting a prerequisite.
The resolution, tabled by Greek-American congressman Mike Bilirakis, states that ''even though the successful solution of the Cyprus problem will facilitate Cyprus' accession to the EU, in the absence of such a solution, Cyprus' accession to the EU could operate as a catalyst for the solution of the Cyprus problem, without the latter constituting a prerequisite for the accession and with all the relevant factors being taken into consideration.
Diplomatic circles in Washington assess that through the resolution, which moves in the spirit of the Helsinki decision, the Greek Cypriot side's negotiating position is strengthened at a time when the direct talks between Cyprus President Glafcos Clerides and Turkish Cypriot leader Rauf Denktash are in progress and while all the efforts are entering the most critical phase with the pending conclusion of the procedure for EU accession.