HELLENIC MARITIME MUSEUM

C. Paizis-Paradelis vice-admiral (Ret)
Chairman of the Hellenic Maritime Museum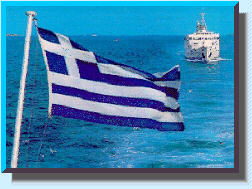 In 1867, Captain G. Zohios, founder of the Sea Men's Pension Fund (Region of the Navy's Veterans) suggested that the Register undertake the project of collecting and maintaining all objects which related to the Greek naval history and that the foundation be laid for the creation of a Naval Museum.
Unfortunately, the effort by Captain Zohios was not realized at that time and almost 80 years passed until a meeting in 1949, which marked the beginning of the formation of the first Naval Museum of Greece with George Stringos as President of the Board. On 27 June 1955 the inauguration of the first "Hellenic Maritime Museum" took place. It was provisionally housed in a old and small, two-storey building on Akti Moutsopoulou of Zea, Pireaus. The exhibits that were collected up to that time were placed there provisionally.
A short time later in 1964 the Piraeus Port Authority (OLP) and later the National Tourist Organization (EOT) leased at a symbolic rate the plot of land where the museum is now located.
The objectives of the Museum are:
The collection, maintenance, preservation and exhibition of all items of historical significance that were collected from the nation's naval battles as well as from other naval activity of the Greeks from ancient times until today.
The study of our naval history as well as the maintenance and protection of the naval tradition and heritage.
The enhancement of the love for the sea, as a source of national pride to next generations.
About two thousand items are exhibited in the museum today in such a manner that our naval tradition comes to life in a chronological order before the eyes of the visitors.
---
THE HELLENIC MARITIME MUSEUM
Akti Themistokleous
Freattida
185 37 Piraeus
Hellas
Opening hours:

Tuesday to Saturday ~ 08.30 - 14.00
Sunday ~ 09.00 - 13.00


Saturday entrance FREE
Members entrance FREE
Car - park FREE
For bookings and further information, telephone
Athens 45.16.264 / 45.16.822
---
The Hellenic Maritime Museum
Akti Themistokleous
Freattida
185 37 Piraeus
Hellas

---
---

---