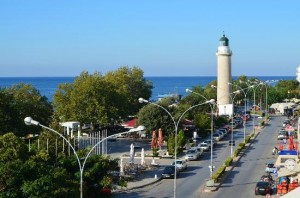 Alexandroupoli, a city that you evoke the distant past and the beauty of today.    A 'key' town in Greece, either leaving or coming from east and west.    Alexandroupoli, an 'open arms' facing the sea. City of tradition and modernity, the city of relaxation and fun, a city of the sea and tourism. The position is crucial, unites Europe and Asia, West and East, and so communication with the rest of the world and Greece is possible by land, sea and air.
Capital of the prefecture of Evros, with all services available to visitors and the welcoming spirit of 60000 inhabitants. Watersports, omfortable taverns, cafes and bars along the quay of the harbor, the luxury hotels and numerous entertainment possibilities guarantee to town guests a pleasant holiday atmosphere and a comfortable stay.
The Regional Municipality of Alexandroupolis Events include:
· Τα «Eleftheria» celebrated on May 14 to commemorate the liberation of the city by the Bulgarians. Lasting throughout May and include a variety of events such as the parade, speeches, performances, exhibitions, music, dance and other events.
· «Waves of Culture», events of the Municipality of Alexandroupolis covering the entire summer.
· Η «Trade Fair» under the auspices of the Commercial – Industrial Chamber of Evros, with the participation of local exhibitors and exhibitors from the islands of the Eastern Aegean and Balkan states.
· Το «Book Festival» held every two years on the waterfront.
· Το «World Congress of Thracians», held every two years in a city of Thrace.