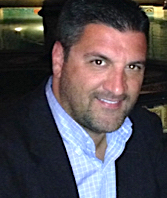 Lee Pashalopoulos is the originator and designer of the "Greece Pavilion in EPCOT" rendering and petition.
Lee was born and raised in Boston to Greek parents. In the early 1980's attended Pinewood School in Thessaloniki Greece studying Greek history and later on attended Northeastern University in Boston Massachusetts.
While in school, Lee received multiple awards and had many art exhibits in New England. After graduating from high school Lee was invited to attend RISD ( Rhode Island School of Design) and Pratt Institute of Art.
Growing up, Lee spent weekends watching Disney movies with his family and later became a fan of Walt Disney and dreamt of one day being an Imagineer.
The idea for the petition started when Lee and his family visited the World Showcase in EPCOT and noticed that Greece was not included. Not only was Greece not included but another Pavilion was serving Greek items….. and the "Greece Pavilion in EPCOT" petition was born!
A few months after the petition was created Lee was contacted by Thanos Voudouris, director of Hellenic Electronic Center (greece.org) and an IT professional, as well as  an avid Disney fan! With Thanos's IT background, the 2 joined forces, initiated the HEC EPCOT project and launched a social media effort through Facebook, Instagram and this web site in order to raise awareness and promote the  Greece in EPCOT initiative.
Lee and Thanos are the leads of the Greece in EPCOT project.