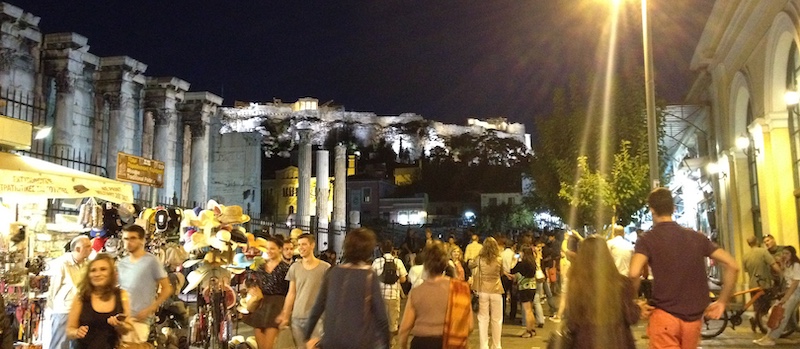 [Related: Reasons to Cheer ]
Investing in Greece is one way of helping the country's economy, while may also be beneficial to your wallet. However, there is a caveat that no investment is safe like money under the mattress or in the fridge. With that in mind, *Always do research before investing*
Recently, Greece issued its first bonds since exiting its bailout program, and the demand was received as a strong indicator to what is viewed as another positive step toward normalcy.
Athens's debt office sold about €3 billion in sovereign bonds, the country's first bond issue following various bailout packages. Those bonds yield 3.6%.  In addition, the country is also planning an 11% increase to its minimum wage, a sign that the days of austerity maybe coming close to an end.
There are signs of improvement in the economy, and one ETF [GREK] could continue to garner the attention of tactical investors this year if Greece makes good on expectations of steady economic growth – GDP growth forecast of 2.5 percent for 2019.
"Greece's economy will expand by around 2 percent in 2019, the influential Greek Foundation of Economic and Industrial Research (IOBE) think tank predicted on Tuesday, slightly below a previous forecast of 2.4 percent," according to Reuters.
As an example, GREK is a single-country emerging markets exchange traded fund issued by Global X MSCI Greece ETF [GREK]. GREK plunged 30% last year, but year-to-date keeps moving up from $6.80 at the beginning of the year, to $8.20 on March 18, a rebound of +20%
GREK is a $240.87 million ETF which follows the Greek equity market with just 34 holdings, concentrated in energy and financial services. Currently it has an ETF Daily News SMART Grade of C (Neutral), and is ranked #64 of 91 ETFs in the European Equities ETFs category.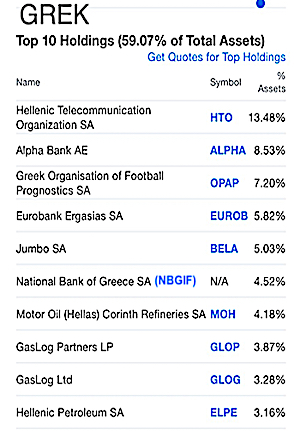 Sources: Reuters | ETF Daily News | Benzinga | Yahoo Finance
---
By