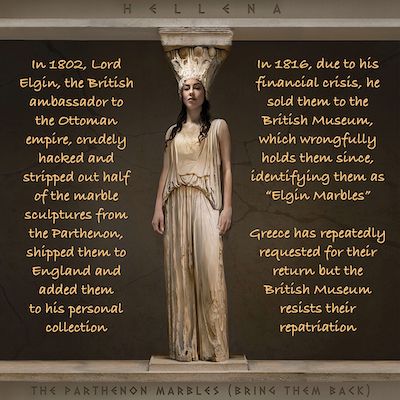 We are bringing to your attention that Hellena and the British Committee for the Reunification of the Parthenon Marbles (BCRPM) organised the first ever in history music protest at the British museum in front of the stolen Parthenon Sculptures. You can watch the video from the music protest in the British Museum on facebook.
Hellena, a singer and songwriter released a new single (seen below) calling on Britain to return the Parthenon Marbles back to their origins in Greece. The song titled "The Parthenon Marbles (Bring Them Back)," is both inspired by and dedicated to the ancient Greek artifacts stolen from the Acropolis in the early 1800s by Thomas Bruce 7th Earl of Elgin (referred as Lord Elgin) and shipped to Britain. Elgin, not only vandalized the Parthenon by hacking its friezes, metopes and pediments, but also stole many pieces of architecture figures including one of the caryatids (female sculptures) from the nearby portico of the Erechtheion.
Thus, the definition of the word Elginism: n. An act of cultural vandalism
Greece has done her part. It has built the Acropolis Museum next to the sacred rocky outcrop of the Acropolis, which is recognized as one of the top museums in the world for its splendid construction and displays of Parthenon artifacts,  boasting over 2.5 million visitors per year. Meanwhile the Parthenon itself is in the process of meticulous reconstruction.
We all believe that this Reunification Campaign is a huge step towards the right direction for further raising awareness for the Reunification.  Hellena and BCRPM noted that would love to open discussions and see what else we could do to put further pressure on the British Museum and the others who keep parts of the Parthenon in their possession.
Here is Hellena performing The Parthenon Marbles Song – Bring Them Back

---
The Parthenon Song (Bring Them Back)
by Hellena

The Greek gods and lights are reflecting in your eyes.
When I look at you I'm yearning but also burning as you're torn in two
Whenever I'm dreaming
I can see no other way to be
Just one way to see it
To bring you back home.
Bring them back in one piece
Back to Greece
Back to Greece
Bring them back if you please
Home.
200 years and still a revolution.
Constitutions formed mass confusion.
I just feel like something's missing
Without you I'm not whole
Without you at all
I'm so sad our history
Is being stonewalled
Bring them back in one piece
Back to Greece
For inner peace
Bring them back if you please
Home.
My identity's my past
Without it I'm lost
Without it I'm lost
How would you feel
left without a home?
Bring them back in one piece
Back to Greece
For inner peace
Bring them back if you please
Home.

Credits
released June 20, 2019
Music & Lyrics – Hellena
Piano – Lef Germenlis
SFX, Gtrs, Mix, Mastering – Denis Efimenko
Studio Engineer – Thomas Miller
---