Artemios (Demis) Ventouris Roussos was born on the 15th of June 1946 in Alexandria, Egypt, to the Greek family of Yorgos and Olga Roussos. His father was a a classical guitarist and an engineer, and his mother participated in an amateur theatrical group.  His formative years in the ancient port city's cosmopolitan atmosphere were influenced by jazz, but also traditional Arab and Greek Orthodox music.  In 1956, due to the political events in Egypt, his family lost their property and consequently decided to move to Greece.
Demis studied music from a young age, but his musical career started in 1963, when he joined the band "The Idols" as a bass player.  In 1967 Demis joined the rock band "Aphrodite's Child", initially as a singer but later also playing bass guitar, together with Vangelis Papathanasiou (keyboards,  later known as the artist Vangelis), Argyris Koulouri (guitars) and Louka Sideras (drums).  Their first album, "The End of the World", became a big hit in France, rising the group to fame.  The band achieved commercial success in France and other parts of Europe from 1968 to 1972. The band's final album '666', based on passages from the Book of Revelation, became a progressive rock cult classic.
Demis became well known and widely loved in Europe, propelling his personal career and resulting in several successful releases in the 70s, such as 'Forever and Ever', 'My Friend The Wind', 'White Sails', 'Goodbye My Love, Goodbye', 'Someday Somewhere' and ' Lovely Lady Of Arcadia'.  In 1976 a BBC TV documentary titled "The Roussos Phenomenon" increased his popularity and his international career. He was equally successful across Europe, Latin America, the Middle East, and Japan.  His trademark look was his beard, long hair, and his attire (the Arabian kelebia).
His career waned in the 80's but reignited in the 90's.  He recorded his final album in 2009, aptly called 'Demis'.
His life was eventful, with 3 marriages, a struggle with obesity which inspired him to write the book "A Question of Weight" (published 1982), and he was even held hostage in a plane hijacking in 1985 (TWA Flight 847 on June 14, 1985).
Demis Roussos died on the 25th of January 2015, aged 69, after a battle with cancer.  He was buried in the first cemetery of Athens. Just a month before his death he selected the tracks for an official CD compilation of his life's work, including notes by his two children, Emily and Cyril.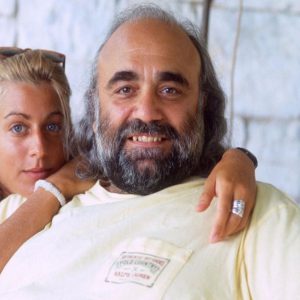 References:
 Wikipedia https://en.wikipedia.org/wiki/Demis_Roussos
Ταξίδι Στον Χρόνο – Time Travel  https://www.instagram.com/taxidistonxrono_timetravel/