The head of the Catholic Church landed in the Republic of Cyprus on Thursday on a two-day trip to the island, where thousands of Maronite members of the faith live and trace their ancestral roots.
The Holy Father made references to the Cyprus Problem, a thorny issue between Greek Cypriots in the south and Turkish Cypriots in the north, referring it as "the greatest wound suffered by this land." The Pope emphasized "There is a power of gestures which prepares the way of peace, not gestures of power, threats of reprisal and shows of force, but gestures of de-escalation and solid steps toward dialogue," and spoke against "vetoes dictated by nationalist interests".
Pope Francis on Friday spoke of reconciliation between the Catholic Church and the Orthodox Church "It is my heartfelt hope that there will be increased opportunities for encounter, for coming to know one another better, for eliminating preconceptions and for listening with docility to our respective experiences of faith. This will prove for each of us an exhortation and incentive to do better, and bring a spiritual fruit of consolation," Francis said.
The Pope emphasized "Centuries of division and separation have made us assimilate, even involuntarily, hostility and prejudice with regard to one another, preconceptions often based on scarce and distorted information, and spread by an aggressive and polemical literature. This too makes crooked the path of God, which is straight and directed to concord and unity".
The pope stressed during his speech that "we need to welcome and integrate one another and to walk together as brothers and sisters, all of us", calling for an end to "walls of fear" and urging people off all cultures to embrace one another.   The Pope had earlier referred to the diversity and migration debate across Europe.
A celebration of the Holy Mass has also held at the GSP sports stadium on the southern outskirts of the capital.  Pope Francis wrapped up his visit to the island of Cyprus on Friday afternoon with a prayer held with migrants at the Catholic Church of the Holy Cross.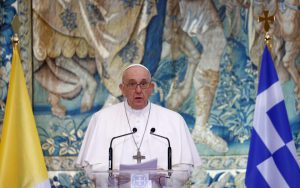 Arriving in Greece on Saturday, the Pope said in a speech: "I am honoured to be in this glorious city", "Without Athens and without Greece, Europe and the world would not be what it is today." Pope Francis warned about a "retreating of democracy" in Europe and the world in his first speech in Athens as he started his three-day visit to Greece:  "Democracy was born here. Today, there is a retreating of democracy, not only in the Old Continent. Everyone's participation is fundamental not only to achieving goals but because it reveals who we are."  "As the great Homeric epic teaches, the great journey is often the only way."
During his speech, the Pope used a phrase by Greek national hero Theodoros Kolokotronis: "God put his signature on the freedom of Greece". Pope Francis recalled that "Here, democracy was born," "That cradle, thousands of years later, was to become a house, a great house of democratic peoples. I am speaking of the European Union and the dream of peace and fraternity that it represents for so many peoples."
The Pope also made reference to the challenges democracy faces in light of the economic, migration and pandemic upheavals.  "The issue of migration has led to breaches between South and North," he said and called for a "global, communitarian vision" regarding migration.   "The remedy is not to be found in an obsessive quest for popularity, in a thirst for visibility, in a flurry of unrealisitic promises…but in good politics," he said.
In 2001, Pope John Paul II became the first Catholic leader to visit Greece in more than 1,200 years and Francis' visit 20 years later is expected to further Catholic-Orthodox ties, still wounded by the Great Schism that divided Christianity.
Francis has accelerated inter-faith initiatives, as the two churches attempt to shift from centuries of competition and mistrust toward collaboration.
His schedule includes a large Mass on Sunday evening at the Athens Concert Hall.  The pope's visit ends Monday.
References –
.https://knews.kathimerini.com.cy/en/news/live-the-pope-has-arrived-in-cyprus
.https://cyprus-mail.com/2021/12/03/pope-speaks-of-reconciliation-between-churches-during-address-to-holy-synod/
.https://knews.kathimerini.com.cy/en/news/francis
.https://greekcitytimes.com/2021/12/04/pope-francis-without-greece/
. https://www.ekathimerini.com/news/1173124/pope-francis-warns-of-retreating-democracy-in-the-world/
. https://www.thenationalherald.com/in-greece-pope-to-seek-deeper-ties-with-eastern-churches/