Πέθανε στις 28/07/2021 σε ηλικία 94 χρονών ο Αντώνης Βεζυρόπουλος ο οποίος ήταν γνωστός ως ο «βοσκός των Ιμίων».
Ο Αντώνης Βεζυρόπουλος έχει γράψει ιστορία με την παρουσία του στα Ίμια και αποτελεί μια εμβληματική μορφή που έχει βάλει τη δική της σφραγίδα σχετικά με την ελληνικότητα των δύο νησίδων.
Είναι ο τελευταίος άνθρωπος που δραστηριοποιούνταν στις νησίδες οπου διατηρούσε 40 κατσίκια περίπου για περισσότερο από 20 χρόνια.  Η παρουσία του βοσκού στα Ίμια υποδήλωνε την ύπαρξη οικονομικής δραστηριότητας, που σύμφωνα με τα Δίκαιο της θάλασσας σήμαινε ότι τα Ίμια έχουν την δική τους υφαλοκρηπίδα και τη δική τους ΑΟΖ.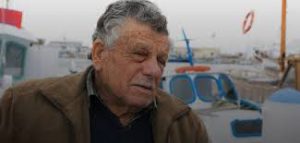 Antonis Vezyropoulos, known as the "shepherd of Imia", died on 28/07/2021 at the age of 94.
Antonis Vezyropoulos has written history with his presence on the Imia islets, an emblematic figure who has put his own stamp on the Greekness of the two islands.
He is the last person to be active on the islets where he kept about 40 goats for more than 20 years. The presence of the shepherd on Imia indicated the existence of economic activity, which according to the Law of the Sea meant that Imia has its own continental shelf and its own EEZ.
References:
https://www.kathimerini.gr/society/561448672/pethane-o-voskos-ton-imion-antonis-vezyropoylos/