3ο Πανελλήνιο Συνέδριο για τα Ολοκαυτώματα και τις Γερμανικές Αποζημιώσεις
14 – 16 Σεπτεμβρίου 2018
Μουσείο Ολοκαυτώματος Δήμου Βιάννου (Αμιράς Βιάννου)
«Καταστρέψατε την επαρχία Βιάννου. Εκτελέσατε πάραυτα, χωρίς διαδικασία, τους άρρενες που είναι πάνω από 16 ετών καθώς και όλους όσοι συλλαμβάνονται στην ύπαιθρο, ανεξαρτήτως φύλου και ηλικίας».
Η φοβερή αυτή διαταγή του στρατηγού Μπρούνο Όσβαλντ Μπρόγιερ, Διοικητή του «Φρουρίου Κρήτη», προς τα γερμανικά στρατεύματα Κατοχής έδωσε το σύνθημα για τη διάπραξη ενός από τα ειδεχθέστερα εγκλήματα του Γ΄ Ράιχ σε πανευρωπαϊκό επίπεδο. Από τις 14-16.9.1943 ο τακτικός στρατός της ναζιστικής Γερμανίας δολοφόνησε άνανδρα και εν ψυχρώ, με βάση ένα καλά οργανωμένο σχέδιο, 401 άμαχους πολίτες (461 συνολικά τα θύματα στα χωριά της Βιάννου την περίοδο της Κατοχής). Μεταξύ αυτών παιδιά, γυναίκες, κατάκοιτους και ηλικιωμένους. Παράλληλα ο γερμανικός στρατός κατοχής λεηλάτησε και στη συνέχεια κατέστρεψε τα χωριά της Βιάννου και της Δυτικής Ιεράπετρας. Η Βιάννος βυθίστηκε στο πένθος. Η ναζιστική κτηνωδία σφράγισε ανεξίτηλα τον τόπο μας και τη ζωή όσων επέζησαν και κλήθηκαν να ανέβουν το δικό τους Γολγοθά..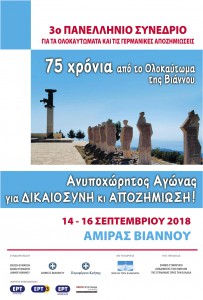 [Πηγές, και περισσότερα: Κίνηση Ενεργοί Πολίτες | ΕΡΤ ]
---
Leave a Reply
You must be logged in to post a comment.