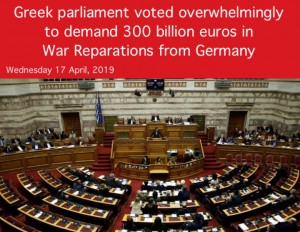 Wednesday, 17 April 2019 | Ελληνικά
The Greek parliament  voted overwhelmingly in favor of a motion which demands that Germany pay more than 300 billion euros in reparations for World War I and World War II.
The Wednesday vote marks the first official parliamentary decision on the Tsipras 2015 campaign pledge to raise the emotionally charged issue.
The motion calls on the government to "take all the necessary diplomatic and legal action in order to claim and fully satisfy all the demands of the Greek state for World War I and II."
During the 12-hour discussion on Wednesday, the government did not say how much money it intended to ask from Berlin. The vote follows a 2016 House committee report, which estimates the amount at between 270 and 309 billion euros.
Parliament Speaker Nikos Voutsis spoke of  "a historic moment for the Greek Parliament," telling reporters that it is the government's duty to issue a "note verbale" to the German government, the first step in demanding reparations according to international law.
The European Parliament and the parliaments of the European Union member states will be duly informed, he added.
Seeking the damages is a "moral, political and historic obligation which the current Parliament could not but honor," Voutsis said, adding that the demands were never forfeited and remain "active."
Berlin has repeatedly said that there is no issue of pending war reparations to Greece.
Related: Απόφαση Βουλής
Sources: Αθηναϊκό – Μακεδονικό Πρακτορείο Ειδήσεων | The Greek Reporter
Leave a Reply
You must be logged in to post a comment.