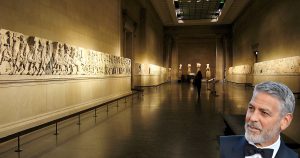 George Clooney with his wife Amal Alamuddin are again in the forefront discussing the fate of the Parthenon Marbles in a recent interview with the British Sunday paper Observer.
Clooney with his renewed intervention advocates the return of the Parthenon sculptures, and urges Britain and the British Museum to allow their permanent reunion in their birthplace, The Parthenon.
According to "The New Weekend," the Hollywood star recently stressed in a message to actress Janet Suzman, Chair of the UK Commission for the Reunification of Parthenon Sculptures, that marbles belong to Greece and should be returned there. "There are indeed many objects of historical value that must be returned to their original owners. However, none of them is as important as the Marbles of the Parthenon."
Several years ago, George Clooney, Bill Murray and Matt Damon had implied that Britain, too, needed to have a long, hard, look at itself.