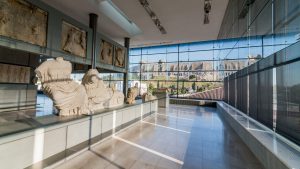 Ancient Greek Elgin Marbles are on display at the British Museum in London, removed from the Parthenon by Elgin early 1800s, which has sparked a long-running dispute between Greece and Britain. Now the Greek efforts are intensified with the upcoming Brexit.
The 27 EU countries hardened their positions and among other clauses, the Draft Brexit document is updated to demand the return of the Parthenon ancient treasures. The updated EU27 Brexit Draft also seeks: "The Parties should … address issues relating to the return or restitution of unlawfully removed cultural objects to their countries of origin."
UPDATE – This is a developing story.
According to eKathimerini and other sources, government spokesman Stelios Petsas said that Greece will continue her campaign for the return of the Parthenon artifacts and will consider which avenues  would be the best for the  cause. He specifically said: "Greece's request for the return of the Parthenon marbles remains strong and it is not linked to a Brexit deal,"
Sources: eKathimerini | CNBC | REUTERS