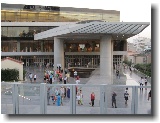 08 November 2010, London THE WINNERS of the UK travel trade's most prestigious annual tourism project awards were announced at the British Guild of Travel Writers' Annual Gala Awards Dinner held at the Savoy in London on 07Nov2010.
The Acropolis Museum in Athens won the British Guild of Travel Writers' (BGTW) prestigious global award for the Best Worldwide Tourism Project for 2010.
Yiorgos Nikitiadis, deputy minister of culture and tourism, received the award representing the Greek government. He thanked the organizers and noted the return of the Parthenon Marbles should now just be a matter of time.
More on the subject:
Things That Never Made It Into Print… –
The Mythical Impartial Press
Kathimerini –
Τρίτο στον κόσμο το Μουσείο της Ακρόπολης
Kathimerini –
Το Μουσείο της Ακρόπολης στα 25 κορυφαία παγκοσμίως, σύμφωνα με την TripAdvisor (2015)