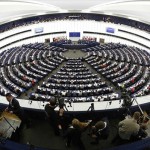 Συνάντηση Ελλήνων ευρωβουλευτών στο Ευρωκοινοβούλιο για το θέμα των γερμανικών οφειλών
19/11/2014 – Διεξήχθη σήμερα στο Ευρωπαϊκό Κοινοβούλιο συνάντηση Ελλήνων ευρωβουλευτών, με αντικείμενο την περαιτέρω ενημέρωση για τη διεκδίκηση των γερμανικών οφειλών προς την Ελλάδα από την περίοδο του Β΄ Παγκοσμίου πολέμου. Οι παριστάμενοι ευρωβουλευτές (Νίκος Ανδρουλάκης, Ελίζα Βόζεμπεργκ, Μανώλης Γλέζος, Γιώργος Γραμματικάκης, Εύα Καϊλή, Μιλτιάδης Κύρκος, Δημήτρης Παπαδημούλης, Σοφία Σακοράφα και Κώστας Χρυσόγονος, καθώς και συνεργάτες των ευρωβουλευτών Θεόδωρου Ζαγοράκη, Γιώργου Κατρούγκαλου και Μανώλη Κεφαλογιάννη) συμφώνησαν ότι, δεδομένου ότι πρόκειται για κρίσιμο εθνικό ζήτημα, πρέπει να αναδειχθεί με κάθε πρόσφορο τρόπο προς την ευρωπαϊκή κοινή γνώμη, με συντονισμένες ενέργειες όλων και σε συνεργασία με την αρμόδια Επιτροπή του ελληνικού Κοινοβουλίου. Παράλληλα, οι Έλληνες ευρωβουλευτές θα επιχειρήσουν να εξασφαλίσουν τη μέγιστη δυνατή συναίνεση των πολιτικών Ομάδων του Ευρωκοινοβουλίου στις οποίες μετέχουν.
Τέλος, συμφωνήθηκε οι συναντήσεις μεταξύ των Ελλήνων ευρωβουλευτών για το εθνικό τούτο θέμα να συνεχιστούν, με τη συμμετοχή και όσων σήμερα απουσίαζαν λόγω δικαιολογημένου κωλύματος.
Source: Papadimoulis
Leave a Reply
You must be logged in to post a comment.