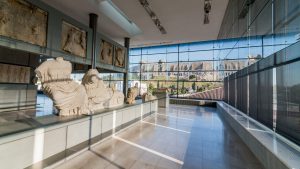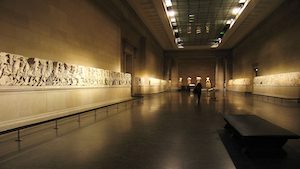 "Let the British Museum come here and make the comparison
between this museum of light
and the murky, if I may say, prison of the British Museum
where the Parthenon Marbles are held as trophies"
President of the Hellenic Republic Prokopios Pavlopoulos
On Monday, April 15th, the International Conference and Workshop titled "Reunification of the Parthenon Sculptures" is bringing up front the reunification. The activity is being held in the auditorium of the Acropolis Museum and is co-organised by the Presidency of the Republic, the Ministry of Culture and Sports, the Acropolis Museum, and the International Association for the Reunification of the Parthenon Sculptures.
President of the Hellenic Republic Prokopios Pavlopoulos declaring the opening, said: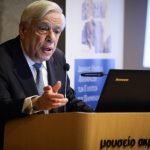 "With feelings of sincere emotion and great honour, I declare the beginning of this so important international conference, which has as its theme the reunification of the Parthenon Sculptures. My feelings are justified by the fact that the international seminar is part of a great and just struggle with a global dimension, namely the struggle for the restoration of what is undoubtedly a most emblematic World Heritage Monument, the Parthenon. And this struggle concerns not only Greece and its historical and cultural heritage, but also culture in general, given that its result will be a real confirmation of the notion of culture as a supreme achievement of human intellect."
"First and foremost, it is extremely symbolic and essential that the current International Conference is being held in this Museum, which was inaugurated almost exactly 10 years ago on June 20, 2009… A museum that, as the international community knows, has been mainly constructed in order to host the Parthenon Sculptures after their "repatriation" and invalidate the arguments of those who claimed that Greece does not have a suitable place to host them."
"It is universally acknowledged that these Sculptures belong rightfully and culturally to the Parthenon and its Monuments. This is because without these Sculptures of the Parthenon, deeply hurt by an act of vandalism and concealed for over of two centuries under a guise of supposed 'love of antiquity', which directly harms World Cultural Heritage, cannot symbolise and, at the same time, emanate to humankind its eternal and unique cultural."
Pavlopoulos underlined that
"the struggle for the Return of the Parthenon Sculptures has been long and uninterrupted."
The conclusions of the Conference and Workshop will be announced at the end of the event by the Secretary General of the Ministry of Culture and Sports, Maria Andreadaki-Vlazaki.
Related: There was NO firman
Source: Αθηναϊκό – Μακεδονικό Πρακτορείο Ειδήσεων